While it currently is 2018 I still think it's not too late to speak about my desktop's specs as they were during the last upgrade (in 2017).
Under the desk
Intel i7 3770K 3.5GHz;
16GB (4 by 4GB) Corsair Vengeance 1866MHz;
Gigabyte GTX 1080 (8GB);
Asus Sabertooth P67;
2 Seagate Barracuda 2TB drives;
Corsair H100i CPU cooler;
Coolermaster HAF-X.
I upgraded to the P67 platform during summer of 2011 with an i3 2100 and swapped it out during the next summer with an Ivy Bridge CPU. I am still not overclocking because I don't actually feel the need.
SSDs would be great but are still not cheap enough for the performance and capacity I'd be interested in and the Sabertooth P67 doesn't have support for NVMe drives.
On the desk
AOC 24″ 144Hz 1080p main screen;
Hannspree 25″ 60Hz secondary 1080p screen;
Microsoft Sidewinder X6 keyboard;
Logitech G500 mouse;
Roccat Kanga mousepad;
XB360 pad;
AKG K142HD headphones;
Generic Logitech microphone.
The secondary screen used to be a primary, but it's getting pretty old and I felt that upgrade to a GTX 1080 was a good reason to get a high refresh rate screen.
Sadly the AOC screen can't be used with a secondary screen when plugged into a Display Port… That's because turning off the screen will pull low the hotplug pin on the DP connector therefor "disconnecting" the screen and moving over my windows. High refresh rate such as 144Hz are a thing with DVI.
The reason I need to be able to turn off manually the screen is because the 360 pad seems to wake up the screens.
The software
Windows 10 Pro 64 bits;
Logitech Gaming Software;
Cygwin.
Sadly for gaming running Windows is still pretty much the best way to enjoy games. But gaming isn't the only reason.
Because I don't need a GPU for Linux I can use VirtualBox for when I want/need to use Linux.
Benchmarking
Let's see how it performs! In run my benchmarks with the settings I play with.
These benchmarks are just here to add some fluff and give a rough idea of how it performs, I don't plan on running 3DMark or any specific software suite.
Final Fantasy XV Windows Edition Benchmark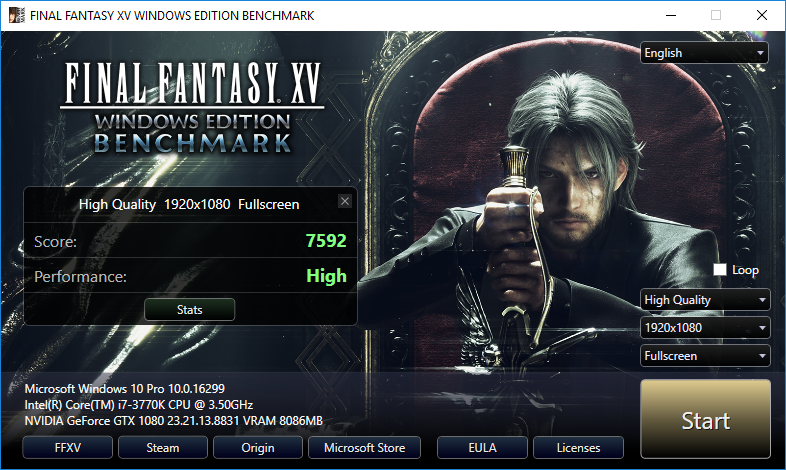 Metro: Last Light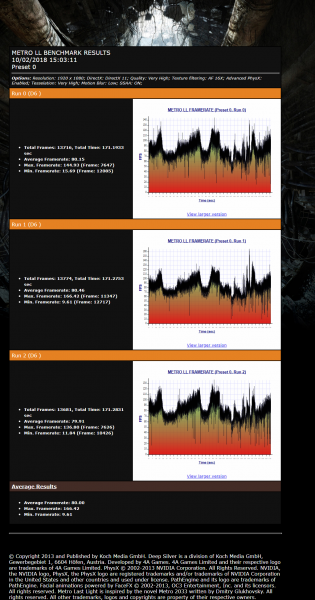 Conclusion
This PC is good enough for gaming in 2018, it'll certainly last long enough to not have me bother upgrading for a couple of years.
The bottleneck will be, without a doubt, the CPU and RAM… Sadly not lasts forever. Since I'll be upgrading the combo MB+CPU+RAM I'll be able to upgrade to some sweet speedy storage.
I really hope that NVMe SSDs will drop their prices in the next few years.
And just for the health of PC gaming I hope that mining will drop dead and stop being a thing with consumer GPUs.