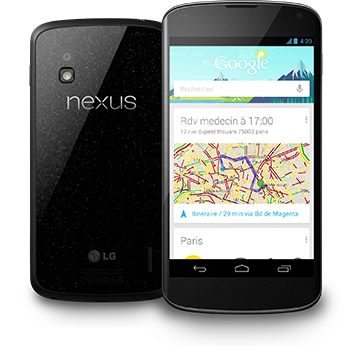 I used to have a Samsung Galaxy Ace (S5830) that was great for an entry level smartphone, but lacked memory (only 189MB) and whenever I was under 20MB left on the phone, I could not receive any SMS/MMS. I even had to uninstall apps that were installed on the 2GB micro SD card !
I've acquired the 16GB version of the Google Nexus 4, it's currently running Android 4.2.2.
What seduced me ?
What seduced me over a Samsung Galaxy S3 or an iPhone was first of all the price, since I couldn't put the price of an iPhone in a phone and because I hate Apple.
But what about the Galaxy S3 ? It's not Apple and not that expensive right ?
Yes but no. Samsung uses a custom firmware with their software. I don't want some Samsung branded software to be honest, it takes useless space and I can't uninstall it without rooting my device.
What seduced me too was that it's branded as a Google Phone, that means that we will have support for the future updates, and they will come out much more faster than Samsung's updates. The Google Nexus has also very interesting features like the NFC support (with Android Beam), the Google Now app that is supposed to give information about everything and enything, and all the new features of Android 4.2 !
What I like in it
What I like is very simple: nearly everything !
It has a 4.7″ screen with a resolution of 1280 by 768 (320PPI) wich is perfect for watching 720p videos, even on Youtube. The phone is really responsive and the apps a really nicely integrated (Twitter, Facebook).
If I had to complain about it, I'd say that it's a shame to not have an "Enter Key" when writing a SMS with the stock keyboard (AZERTY since I live in France).
Screenshots