Update 2023/03/26:
Turns out streaming gunpla instead of video games helped so much more in getting over 3 average viewers at the same time. People also feeling more engaged and tend to participate much more in chat too.
That was really unexpected but I'm fine with that because I liked streaming my build of the HG Gundam Aerial:
Built my HG Gundam Aerial on stream! #gundam #gunpla #witchfrommercury pic.twitter.com/Np0Xpf1GXu

— SenpaiSilver (@SenpaiSilver) March 25, 2023
I will definitely do more of that and improve my setup since I have no plans of stopping. I'll write up a post about the setup once it's more set in stone.
Original post:
As I've announced previously on YouTube and also on the blog I'm trying to get a bit more into streaming. The grind isn't easy because the path to affiliate has some specific requirements that are actually a bit hard to achieve.
Path to Affiliate
This is what it looks like: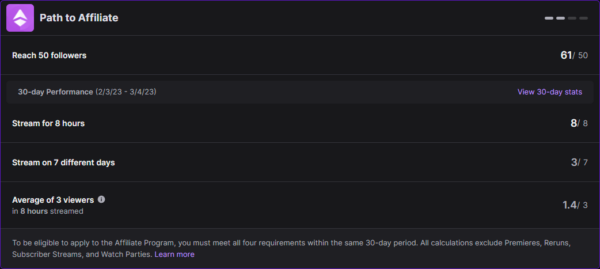 The harder part of it is getting an average of 3 viewers because if I stream towards an audience of no one then I'm just digging down.
I also tend to get much more views on YouTube but more on that later down the post.
Streaming on multiple platforms is forbidden
Once affiliated with Twitch I won't be able to stream to Twitch and YouTube at the same time. Streaming towards a Restream Docker container was really convenient to automatically upload my VODs to YouTube but it increases the stream latency so much that the interactions are slow.
Once I gain my affiliate status I won't be streaming to two platforms at the same time.
Streaming on YouTube?
To enable monetisation on YouTube there are different rules: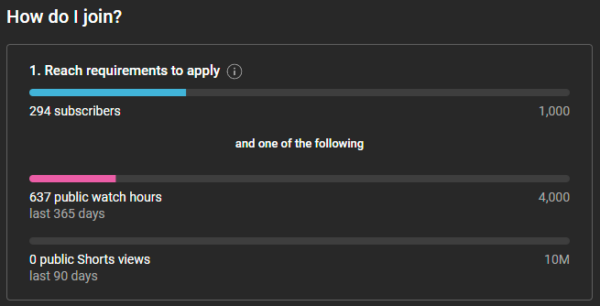 Getting at least 1k subs is easier than keeping viewers engaged for 4k hours.
I'm thinking of trying something with the public shorts views but that would mean that I need to line up some content and be as widespread as possible.
I could edit some of my VODs on YouTube to extract some highlights but there could be much more work than I'm expecting.
I'm also not very fond of YouTube shorts as I classify that under "infinite scrolling brain dead content for zombie".
Conclusion
Streaming is a grind and it ain't easy.
'Nought said.