UPDATE 2020-06-22: I dropped Mixer. Didn't even stream much on it.
They were not the savior we needed: The Next Step for Mixer.
Twitch got some improvements on its features, now I hope it'll get itself sorted out on other aspects.
Original post
We all know by now that Ninja has signed up for Mixer and will be streaming exclusively over there. I also don't care about Fortnite but I thought it was interesting to see the number 1 move over to a competitor.
I've actually tried this new platform and I like it.
What is Mixer?
Mixer is a streaming platform just like Twitch but with a much cleaner and modern UI than Twitch.
Reactions and effects can be sent to the streamer through the chat with the Sparks and Embers, a digital currency that can be bought or accumulated for watching streams.
A developer website is available for creating bots and integrating features into games or apps with Mixer: https://dev.mixer.com/
Stream Faster Than Light
Mixer uses the FTL technology that permits the streamer sub-second latency.
This technology exists on other streaming services but I've tried it with Mixer and I can't live without it. I'm done waiting for my viewers to see what I was talking about and getting delayed reactions to me failing at the most basic things.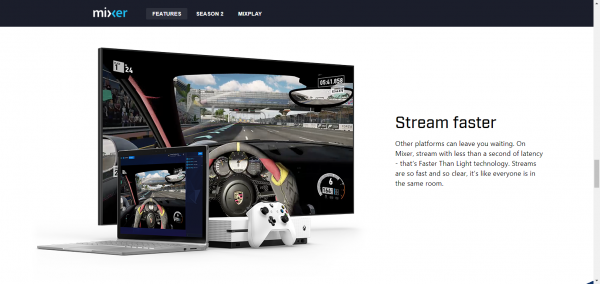 Isn't exclusivity bad?
Unlike games being products, streamers are more like performers and they usually need to consolidate a fanbase somewhere so following is easy and communicating with followers is too.
It's possible to stream to multiple services with a bit of setting up but interactions would be hard to handle well.
The quirks
Okay so let's be real for a second. Even though I'd support Mixer over Twitch it still isn't perfect and I have had multiple issues with my channel not showing the stream or the FTL streaming not performing correctly.
I made sure to not stream over 10Mbps in AVerMedia RECentral and OBS.
The settings page is actually quite easy to understand and helps setting up the encoder correctly. But there's no way to debug stream errors for now.
Twitch is bad
Twitch also experimented with Ninja's channel, since he's not streaming on it anymore, to recommend other Fortnite streamers… Without validating the streams or notifying him. It obviously when wrong when someone was streaming porn instead of Fortnite. Ninja has addressed this on Twitter:
Disgusted and so sorry. pic.twitter.com/gnUY5Kp52E

— Ninja (@Ninja) August 11, 2019
While Ninja's channel could be seen as belonging to Twitch, attacking his brand by advertising other streamers, especially without hand picking the content, is scummy at best and is a blatant attack on his brand.
Twitch is also know for banning some streamers for little to no offense or honest mistakes while giving a pass on the more famous offenders such as Alinity (covered on the second bullet point). Sometime you've got to agree with PETA:
ATTENTION: @TwitchSupport,

Take a stand for cats & please remove Alinity from @Twitch immediately. She is using the platform to post animal abuse, which sends a dangerous message to anyone watching her videos. Cats are not props to abuse for more views 🐱https://t.co/EsIsB5o6Tf

— PETA (@peta) July 19, 2019
One should never feed vodka to their cat, in my book this counts as dangerous consumption of alcohol for such a small animal.
While Twitch permits other streams than gaming, it sometimes looks more like a cam show platform than anything else. Reddit user RainZone asked the following question:
…why are people bothered by female streamers who use their body for subs? I mean sure it't not the most ethical thing to do, but nobody forces someone to watch her streams?
To which reddit user MagamanDS responded (full response):
Long story short – Twitch was built and designed solely for the purpose of gaming… Twitch has been adding categories and features outside of gaming…

Non-gamer female streamers started growing in popularity VERY QUICKLY. This made many serious gamers upset because it feels like their 'safe space' gaming environment is being taken over by girls who don't play games, thus resulting in 'ruining' Twitch (or their safe-space/home)…
The rest of MagamanDS' response is also very interesting and you should read it.
Let's finish by saying that Twitch isn't only about gaming anymore, which is not a bad thing in itself. But what is bad is having content that belongs on camshow websites such as body painting and having people exposing their bodies.
Conclusion
I want Mixer to become the major streaming platform that YouTube Gaming never became, I want it to be able to compete with Twitch on its own and deliver a great user experience.
Right now getting partnered isn't easy due to the goals being set very high for the random nobody but I'm willing to ignore that.
I'll be streaming a bit more on Mixer here: https://mixer.com/SenpaiSilver